Anyone who's lives in Lagos can attest that selecting the right bottle involves navigating dozens of seemingly similar options. It's a minefield of varietals, labels, and price tags, which is made all the more daunting when you scarcely know your

reds

 from your 

whites

 or you're on a tight budget. Thankfully, and contrary to popular belief, a great-tasting bottle of wine doesn't necessarily need to be procured at an eye-watering price.

I am constantly on the lookout for new, delicious wines, but nothing gets me more excited than finding an affordable bottle that tastes way fancier. Here is a list of affordable wines in Lagos.
Casa Dorada Non-Alcoholic Wine
Enjoy life, celebrating the moment and special events! Whether it's a special occasion or just a get-together with your best friend, with business partners, colleagues or your partner – people love to clink glasses with some sparkling wine!
For people who want to go without alcohol, but not the fun of cosy get-togethers with friends and the joy of sparkling wine, LIGHT live offers a wide range of alcohol-free alternatives to sparkling wine, as well as wines and pre-mixed cocktails.
Combine great ingredients, and you'll make great wine. Made from a base of 100% grape juice from Spain and perfect from every occasion.
The price of Casa Dorada red wine in Nigeria is N13,500 for a carton of 12 Bottles
Domino Del Rey Red Wine
A Spanish red wine, with an alcohol volume of 10.50%. Domino Del Rey red wine is a perfect companion for a variety of foods. A delicate and well balanced red wine with floral aromas and soft pleasant flavours.
The price of Domino Del Rey red wine in Nigeria is N17,500 for a carton of 12 Bottles
Castillo Grande Red Wine
Castillo Grande is a captivating red wine from Spain. A light and sweet red wine with fruit flavours, soft and easy to drink.
The price of Castillo Grande red wine in Nigeria is N13,500 for a carton of 12 Bottles.
Apothic Red Wine
Apothic Red Wine is gradually becoming one of the most purchased red wine in Nigeria with an alcohol volume of 13.5%. This delicious and easy to drink red wine pairs well with spicy foods, cheese, cake and a well-seasoned steak, like suya.
The price of Apothic Red Wine in Nigeria is N40,000 for a carton of 12 Bottles.
Escudo Rojo Red Wine
Escudo Rojo is a red wine from Chile with an alcohol content of 14%. It is elegant and has an attractive ruby red colour. The taste is fresh, complex and sweet. You will get some hint of ripe red fruits like raspberry, cherry and blackberry. This is a perfect wedding wine.
The price of Escudo Rojo red wine in Nigeria is N49,000 for a carton of 12 Bottles
Lamothe Parrot Red Wine
Relatively new to the Nigerian wine market, Lamothe Parrot is a sweet and fruity red wine that pairs perfectly with local Nigerian dishes. It is tender in the mouth. This classic red wine is going to be a big part of wedding celebrations in Nigeria very soon. Lamothe Parrot has an alcohol volume of 8%.
The price of Lamothe Parrot red wine in Nigeria is N17,500 for a carton of 12 Bottles.
Ocean Beach Red Wine
Ocean Beach Red Wine is a classic Californian red wine with a signature touch of yellow labelling on the bottle and alcohol content of 12%. It is a light, smooth red wine with a crispy and pleasant taste. Pairs perfectly with salad.
The price of Ocean Beach red wine in Nigeria is N16,000 for a carton of 12 Bottles.
4th Street Red Wine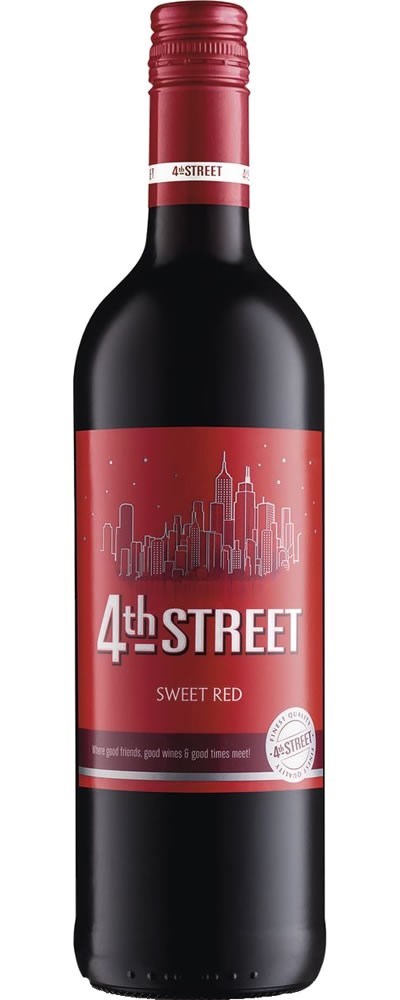 A South African red wine, with an alcohol volume of 7.5%. 4th Street red wine boasts of fruity sweetness. This light-bodied red wine is sweet, easy drinking, fresh and versatile. It is highly recommended for any occasion because it is believed that wherever there are good times, there is 4rh street.
The price of 4th street red wine in Nigeria is N16,000 for a carton of 12 Bottles.
Drostdy-Hof (Claret Select) Red Wine
A medium-bodied red wine with a ruby red appearance and alcohol content of 12.17%. Drostdy-Hof is a blend of abundant ripe fruits with a distinctive aroma. The Claret Select is well balanced, soft and best served at room temperature.
The price of Drostdy-Hof red wine (Claret Select) in Nigeria is N18,000 for a carton of 12 Bottles.
Frontera Red Wine
A juicy red wine from Chile with a deep ruby colour and alcohol content of 12%. Frontera red wine is a light, dry, medium-bodied red wine, with good berry flavour. This red wine is perfectly balanced, rich in flavour and pleasantly satisfying to taste.
The price of Frontera red wine in Nigeria is N19,500 for a carton of 12 Bottles.
Carlo Rossi Red Wine
Carlo Rossi is a pale ruby colour red wine with an alcohol volume of 12%. A sweet red wine with fruit flavours. This is a regular wine at Nigerian weddings. The price of Carlo Rossi red wine in Nigeria is N23,000 for a carton of 12 Bottles. There you have it – a list of the best selling red wines in Nigeria for weddings, events and parties.
Dourthe #1 Bordeaux Rose
Bordeaux makes the finest of wines and the Dourthe #1 Rose is among the best from the rich wine region. This rose wine is distinctively different with a complex, yet a refreshingly sharp taste. Pale pink in colour, the wine has lingering blueberry, grapefruit notes, while the acidity and richness on the palate harmonise to remarkable effect. You should be reaching for your wallet about now to buy this excellent rose wine.
B & G Cuvee Speciale Rose
Elegance, fruity and fresh notes, and an aromatic scent are one of the premium reasons why you should have a taste of this rose wine. The salmon-pink and bright coloured wine pairs well with salads, pizzas, spicy dishes and grilled meat. It is best served chilled, 8 – 10°C.
Andre Rosé
Deep-Coloured sparkling California rose wine is another refreshing drink that is also pocket-friendly.  A blend of crisp white and succulent red grapes, André Rose, is a slightly sweeter wine with a fruity bouquet, overtones of white fruit, with a hint of apple and palate-pleasing cranberry notes. It has a smooth and refreshing taste which allows for pairing with spicy meals.
Martini Rosé
A bottle of sparkling rosé wine from the Martini family, this special wine offers an aromatic bouquet of rose, wild strawberry and raspberry with a hint of black pepper. The richness of the taste makes it one of the tops rose wines you should be drinking. Made from Moscato, Prosecco and Brachetto grapes, this Italian sparkling wine Comes a beautiful soft pink in colour and tastes as lovely as it looks.
It pairs well with rich, creamy cheeses or with fruits like peaches and apricots.
Have you tasted any of the wine in the list above? If not, please do.
6,942 total views, 4 views today